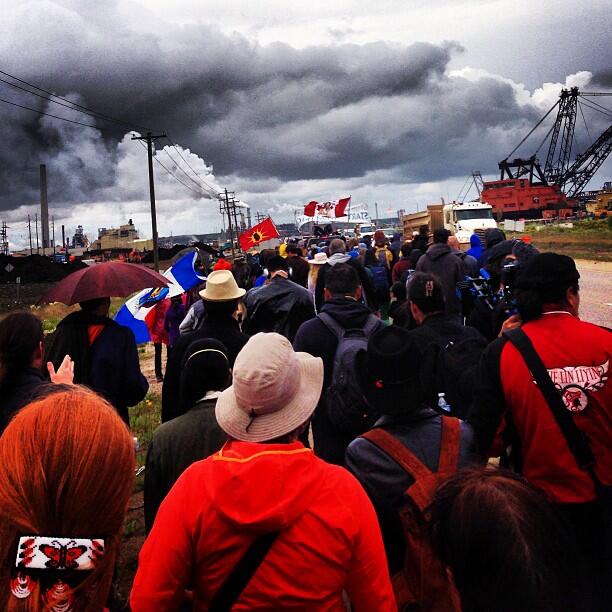 The 4th Tar Sands Healing Walk at Syncrude,
Jesse Cardinal, a co-organizer with Keepers of the Athabasca, spoke about a special significance to the 4th Annual Healing Walk because of the importance of the number four in many indigenous cultures. In addition to four seasons, four directions, and four human aspects (mental, physical, emotional, spiritual), Mr. Cardinal said, "
The fourth Healing Walk is significant because it indicates the ending of one cycle and the beginning of another." (Incidentally, 4 cross-country treks from Canada and the U.S. were planned to converge upon the event, as well.)
Keepers of the Athabasca are "an alliance of First Nations, Inuit, Metis, environmental groups and other concerned citizens advocating effective stewardship of the Athabasca River and Athabasca Lake Watershed." The Athabasca River, as seen in the map below via DeSmog Canada, is less than 10 kilometres from key industrial sites polluting the waters with toxins.
Cree organizer Clayton Thomas-Muller wrote a personal and moving account of the 2012 Tar Sands Healing Walk in "the region of the most controversial energy project on earth." He described the Syncrude site as "something straight out of a science fiction movie,"
with "shattered landscapes" and "glimmering stainless steel cracking towers that separate bitumen into synthetic oil, a massive tank farm, lego-like worker sleeping facilities stacked upon one another, and two half-built pyramids of sulfur (a by-product of the bitumen upgrading process) being built toward the sky like modern Towers of Babel." Adding further perspective, he says,
Then comes what is probably the most absurd element of insanity on the Highway 63 loop: the buffalo demonstration project and reclamation site.
Yeah, you heard right. Some executive from Syncrude got it into their head that having live buffalo living under the stacks of their tar sands upgrader would be a good thing for the image of the tar sands industry. A herd of the most symbolic animals of our native heritage is subject to a slow poisonous death, its members grazing in toxic fields with an apocalyptic backdrop of tailings ponds and smoke stacks billowing white clouds of toxic death overhead.
But the absurdity doesn't end there. A few years back, some of these poor beasts were culled and distributed to elders in local First Nations. Instead of eating it, they had it sent away and tested. The tests came back showing that the meat was poisoned with heavy metals and other toxic compounds, which was present in concentrations hundreds of times above what is deemed acceptable for human consumption.
Mr. Thomas-Muller also describes the air pollution in the area so hazardous that 2012 participants quickly developed flu-like symptoms.
Some of this year's walkers wore gas masks:
Mr. Thomas-Muller writes that community members and tar sands workers have been among the Healing Walk's biggest supporters, honking their horns in passing.
And via Le Devoir, the following photo of Fort McMurray oil sands by Jeff McIntosh. "The Alberta basement contains no less than 167 billion barrels of oil that operators seek to export."
i
On June 29, 2013, Le Devoir reported that while the Marois government studies the possibility of routing Alberta oil to Quebec, a Quebec delegation of community activists, labor organizers, and aboriginal artists planned travel to participate in the Alberta event organized by aboriginal communities who suffer the direct impacts of tar sands. Patrick Bonin of Greenpeace, director Dominic Champagne, and student organizer Gabriel Nadeau DuBois - among the Quebec attendees. Mr. Bonin said, "[...] now that Quebec wants to import Alberta oil, this is no longer a foreign matter to Quebecers."
On Friday, at this year's event and also among the various speakers, Lionel Lepine of the Fort McMurray First Nation described impacts on communities living near the Alberta oil fields, saying, "In Fort Chip we live at ground zero. Our people are dying. Cancer rates are skyrocketing. They call Fort McMurray 'boomtown'. I call it doom town." And key notables like Bill McGibbon and Tzeporah Berman spoke about oil's corroding effect on democracy, the need to create green jobs, and "game over for the planet" if development in Canada's oil sands continue.
"This is a fight between a few wealthy men and the future," said Mr. McGibbon.
Another video in solidarity with the 2013 Tar Sands Healing Walk from the Nobel Women's Initiative that led an October 2012 delegation to investigate the impact of oil sands on women and their communities; the video "documents some of the powerful voices we heard along the way."
Near the Walk's conclusion, the Vancouver Observer reported an elder standing by the tar sands and simply weeping, and as the crowd hushed to complete silence, listening to her profound expression of grief. Reporter Linda Solomon wrote that the leader's tears, carrying across the hundreds of people in attendance, "said more than all of the passionate and powerful speeches that had taken place over the last 24 hours combined."
Photographer: Bill Weaver
On the edge of the tar sands, 4th Annual Healing Walk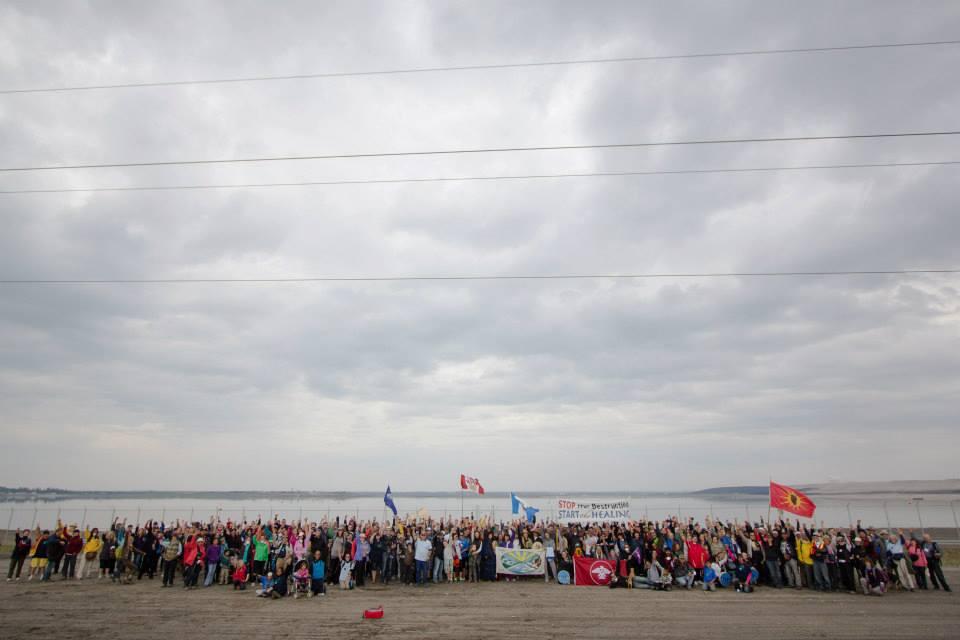 Photographer: @redman0380/Ben Powless
July 6, 2013, The Healing Walk - "A picture of everyone at the end of the walk."
More photos here from Censored News.
Update:
Currently, an Athabasca River oil spill is under investigation, and about 60 kilometres north of Fort McMurray; news here and here.
"We could see the oil residue from a plane up above on that stretch over 100 kilometres long,"
Athabasca Chipewyan First Nation Chief Allan Adam told CTV News.
July 9th update:
More stories and photos from the 2013 Tar Sands Healing Walk here.