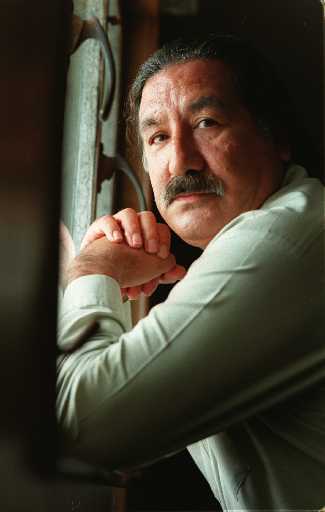 Native American activist Leonard Peltier shares poetry in video never before seen, and in a recent Democracy Now! news piece below.
Mr. Peltier has been unjustly imprisoned since the seventies, in a case widely decried by leading human rights voices such as Amnesty International, Nelson Mandela, and the Dalai Lama.
A major line-up of singer/songwriters performed Friday, December 14th at the Beacon Theater in New York City, and in a concert called Bring Leonard Peltier Home In 2012, and calling upon President Obama to issue a pardon before Christmas.
From the Rolling Stone Review:
Folk tunes and Native American spirituals stretched over four hours, beginning with several never-performed verses of "Turn! Turn! Turn!" that 93-year-old Pete Seeger said he recently found in a batch of lyrics he'd written 60 years ago: "A time for dirt, a time for soap/A time for hurt, a time for hope," he gently wavered while strumming his acoustic.
Fresh off a flight, Mohican guitarist Bill Miller tuned his guitar onstage before attacking it with lightning-fast picking through Bob Dylan's "All Along the Watchtower." Fellow First Nations musicians, including Jennifer Kreisberg and Geronimo and Buddy Powless, stripped things down and used only their voices to fill the venue with traditional and contemporary songs.
The Democracy Now! piece, followed here by an interview with
actor Peter Coyote, long-time friend and advocate for Leonard Peltier:
In further poetry news, a local Quatari poet was sentenced to life in prison, and 3 days after the U.N. Climate Change Conference began, for reciting a poem he wrote in solidarity with the Arab Spring.
A 3rd year literature student at Cairo University, Mohammad ibn al-Dheeb al-Ajami has been in solidary confinement since November 2011. He recited the poem about two years ago, stating, "The Arab governments and who rules them are, without exception, thieves. Thieves!" Officials claim he encouraged the overthrow of the government. The U.K. Guardian reports:
Gulf regimes have stepped up crackdowns on a range of perceived threats to their rule, including Islamist groups and social media activists. Earlier this month, Kuwaiti authorities arrested four people on charges of insulting the emir with Twitter posts, and the United Arab Emirates imposed sweeping new internet regulations that allow arrests for a wide list of offensives, including insulting leaders or calling for demonstrations.
Last year, Bahrain issued a royal pardon for some protest-linked suspects, including a 20-year-old woman sentenced to a year in prison for reciting poetry critical of the government's effort to crush a Shia-led uprising against the Sunni monarchy.