The One True "King"

(a.k.a, "The King") was born on January 8th, 1935, his birth honored last week via cross-species ceremonies, for example, like look-alike contests ...
Arrived by way of humble Mississippi origins

in a two-room shotgun house (his Papa built just for the said-prophesied occasion), Elvis revealed himself as the Last Real Known Messenger, and to the Americans, first, of course, when (as part of the original prophesy) he provided rapt 1956 audiences 3 initial messages (or commandments, and from Ed Sullivan's Mount) .. "Love Me Tender," as the first communicado, "Don't Be Cruel," as the second, and finally, "You Ain't Nothing But A Hound Dog" (rumored in reference to an adored predecessor he was unapologetically knocking off the throne). That, we are told, is what Elvis was spotted, doing and saying in the Sistene Chapel, today, when reported tourists spotting the King also studying the ceiling, then threw themselves down in fits of ecstasy, screaming, as he began to sing ...
It Is Said That

Elvis further revealed his Great Compassion for humanity when he sang about himself as a person experiencing great suffering in a house of ill repute, and then, in another, prophesied the freeing of all prisoners from jail cells with a big dance party. Many commoners throughout the western empire identified and found solace in

His Message

.
As the Elvis Gospel goes, however,

all earth species, including dogs, really knew he was top-dog when he told

Some Babes

they could do anything .. slander his name, commit sacrilege, dominate him, violate all the prior rules he had stated .. just don't mess with, or blaspheme,

His Blue Suede Shoes

. Thus, the ultimate commandment was issued, greater than the previous messages, including the ones initially revealed from Ed's Mount. People knew he really meant it, too, because you could see when he sang and swung his hips, rolled his eyes, beneath the eyeliner and mascara, the subtle turn of those lush Scots-Irish, French-Norman, Cherokee-Mississippi boy lips, the slight toss of his soft chin up at that one small deft angle, the chin that became more squarely chiseled with time, that a Real King doesn't take his own rules too seriously, even the most sacred shoes can be defiled.
So, Hallelujah, True Greatness was born,

and hedged religiously into human record, this time, however, with incontestable film so viewers

until Judgment Day

could truly see the late 1950s for themselves, see that, this indeed was (and still is)

The Truth

, without anyone having to say it again and again, while being paid, every single week. And, when the King starting donning a black leather jacket, he sailed especially well with the French who'd already liked him quite a bit, and said something like, "

Qui pourrait

résister à de telles

provocations

?"
"There's no one else after me, baby," said Elvis

during a rumored late night dinner conversation back in 1962 in Tennessee.
And then again, "

Are you kidding? I didn't do anything but just jiggle."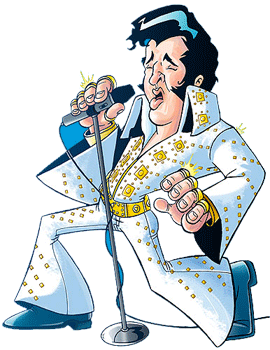 *
*
*
*
*
*
*
*
*
*