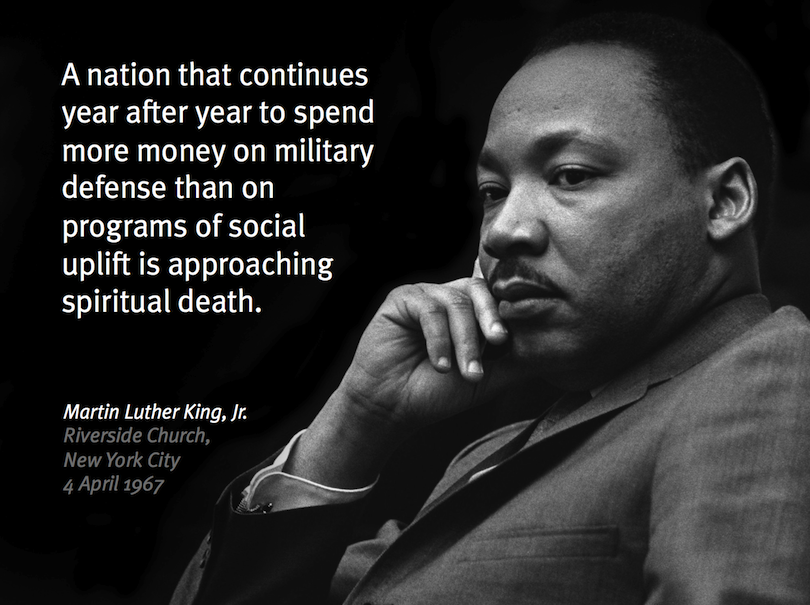 A couple of specials on Martin Luther King Jr. Day .. a newly discovered recording of a prophetic 1964 speech Dr. King made in London on civil rights and economic justice, apartheid in South Africa, U.S. colonialism and war, and, the power of agape, or love for one's fellow humans.
#MLKDay2015 Exclusive Newly Discovered 1964 MLK Speech on Civil Rights & Apartheid South Africa http://t.co/hdzAKTeRX4 via @democracynow
— Old Sauk River (@OldSaukRiver) January 19, 2015
And .. since we've been on the subject of cartoons, an MLK cartoon from Thich Nhat Hanh from MLK's first speech publicly questioning the war in Vietnam (which caused a lot of waves back then ... and is good to remember, now ... and we know why).
The U.S. recognizes and honors the contributions of Martin Luther King Jr; his passion for peace & beloved community. http://t.co/cOFSvbYrtH
— Thich Nhat Hanh (@thichnhathanh) January 18, 2015
(As Dr. King said, "The time is always right to do what is right.")
Democracy Now! has posted the full recording of Dr. King's renowned Vietnam speech via the first link to the newly discovered recording.
Sadly, we have not learned enough, yet, have we!
A compelling visual below, putting the 2009 American soldier suicide/death toll in perspective.
Death toll of US soldiers in 2009: http://t.co/y039ttQMca https://t.co/gZy5LDN6I7 #DoD #OEF #OIF #vets pic.twitter.com/AV0flIhZon
— PGH Veterans 4 Peace (@PghVFP) January 18, 2015
While the status quo honored Dr. King with (what have become) the usual ceremonies and service opportunities, Ferguson and #ICantBreathe activists sought to reclaim the holiday with Dr. King's original message of non-violent activism and protest. In Saint Louis, demonstrators reportedly "crashed" a planned event, blocking traffic and decrying what they called "a watered down version" of King's views, which were unapologetically militant, protesting and being arrested for real social change.
Photoset: justice4mikebrown: January 19 #ReclaimMLK (part 3) Police officers continue to disobey orders to... http://t.co/oJIbpRaupF
— PLAYBOYDREAMZ (@ONLY1PBD) January 20, 2015
At Seneca Lake, New York, 200 climate activists were arrested for the occasion.
More #ReclaimMLK:
The work of this campaign is important, since MLK did not die because he wanted someone to paint a wall. While volunteering in and of itself is great and people should be encouraged to give back, it is not what got him killed. He was shot by an assassin for fighting against the racist, classist status quo, murdered while in Memphis, Tenn., to support striking black garbage workers. To make his birthday a day about giving back is to defang the legacy of a man who was both revered and reviled in his time for his tireless work confronting America's sins.
And from Sojourners:
King was outspoken against capitalism's oppressive clutch on both the national and global levels. King made it clear that racism and economics were intimately intertwined. I'm reminded of his classic quote, "What good is having the right to sit at a lunch counter if you can't afford to buy a hamburger?"
Random tweets from inspiring protests around the country:
"I had a dream and I woke up" MLK march passes construction on Yesler. #ReclaimMLK #MLKDay2015 @jseattle @Ansel pic.twitter.com/ceTy61oDzm
— Alex Garland (@AGarlandPhoto) January 19, 2015
#blacklivesmatter activists blockade highway 99 in #seattle on #MLKDay2015 pic.twitter.com/srHmJCU06p
— Alex Garland (@AGarlandPhoto) January 19, 2015
"Homeless lives matter!" We will NOT allow Larry Rice's shelter down without a fight! #ReclaimMLK pic.twitter.com/S7VUeDuasK
— Charles Wade (@akacharleswade) January 19, 2015
New chant: They think it's a game! They think it's a joke! It's not a parade! The System's still broke!! #ReclaimMLK pic.twitter.com/QkIpTjbbMA
— Keith Rose (@KWRose) January 19, 2015
#ReclaimMLK #BlackLivesMatter St Paul MN LIVE Now! http://t.co/Mx7ik1W6p1 pic.twitter.com/UtmM6e19f3
— Global Revolution TV (@GlobalRevLive) January 19, 2015
#ReclaimMLK RT @7News: Protesters hold die-in at Boston Common. #7News pic.twitter.com/As7iFoHukz
— m_x (@soit_goes) January 19, 2015
It really has. #ReclaimMLK on #MartinLutherKingDay pic.twitter.com/s4kDxvoi5V
— Occupy Wall Street (@OccupyWallStNYC) January 19, 2015
200 climate activists arrested on MLK Day. @wearesenecalake @RevYearwood #climatejustice #ReclaimMLK http://t.co/acG1LKhHAH
— EarthTalk/E Magazine (@EEnviroMag) January 20, 2015
I feel grateful for today. More than 5000 marched in #Oakland to #reclaimMLK. Thx #APTPOakland for organizing! pic.twitter.com/TtxPJ4akvn
— T. Thorn Coyle (@ThornCoyle) January 20, 2015
"@REALjusticePHL: Philly kids for REAL Justice!! #reclaimMLK #blacklivesmatter #endstopandfrisk #fundschools pic.twitter.com/1viCIXfsBK"
— Me (@NixxieMcBoo) January 20, 2015
#Ferguson activists, #HSSU students, & old regime agreeing to disagree on racism, discrimination #ReclaimMLK #WWMLKD pic.twitter.com/4x125qxOqD
— .aaron.banks. (@AaronWBanks) January 20, 2015
#StudentsUNITE #MarchOn with @common because #SelmaIsNOW #ReclaimMLK http://t.co/s44ZSohmF2 pic.twitter.com/zFu2kuFnLe
— Students UNITE (@StudentsUnified) January 20, 2015
Rolling on #MartinLutherKingDay in #4MileMarch #BlackLivesMatter #ReclaimMLK When will the Dream become reality? pic.twitter.com/ZJuyDf2ONW
— Nadina LaSpina (@nlaspina) January 20, 2015
Alice & @cptjesusamerica #ReclaimMLK (photo via @chriskingstl) pic.twitter.com/IOb6s0bwBp
— elle dowd (@HowNowBrownDowd) January 20, 2015
#ReclaimMLK protest Pittsburgh ends w rally at City-County building. @PGHCityPaper @billpeduto pic.twitter.com/3OwWygnOLB
— Heather Mull (@hmullphoto) January 20, 2015
Demonstrators Across The United States Seek To #ReclaimMLK http://t.co/sjEUGB9mhl
— Vera Ryžik (@Ryzhik) January 20, 2015
#Ferguson was cited as inspiration today at #ReclaimMLK in Philly
— Alchemicalmedia (@alchemicalmedia) January 20, 2015