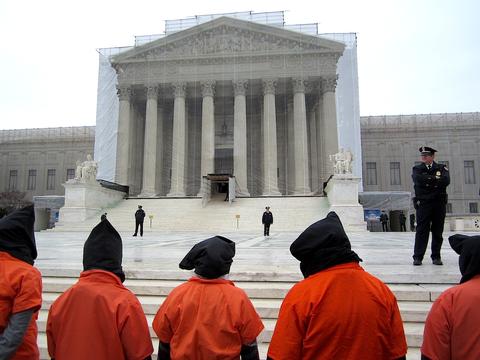 In the video below, from the Witness Against Torture Fast for Justice - Day 3: activist Molly Kafka reads a poem by former Guantánamo detainee, Sami Al Hajj, Humiliated in the Shackles. Demonstrators in the video are outside the U.S. Supreme Court in January, 2013.
Deseret News reports today that the Guantánamo prisoner hunger strike now enters its second month; while prison officials report 21 participants, Pardiss Kebriaei, a New York lawyer representing a Yemeni detainee, states, "My client and other men have reported that most of the detainees in Camp 6 are on strike, except for a small few who are elderly or sick." Camp 6 reportedly holds 130 of the 166 remaining detainees at Guantanamo Bay. Witness Against Torture reports today that more than 1/2 are categorized by the U.S. government as "cleared for release."
More poetry reading from the Witness Against Torture Fast For Justice here at this link.
It includes a poem written by another detainee, Adnan Latif, also "cleared for release," but who nevertheless remained in captivity until his death in September 2012. He described
Guantánamo

as "a piece of hell that kills everything."

On March 12th, Center for Constitutional Rights staff attorney Omar Farah told the Inter-American Commission on Human Rights
"Our clients report that most of the men at the prison are now in the fifth week of a mass hunger strike to peacefully protest worsening prison conditions, religious provocation, and the crushing reality that after 11 years in indefinite detention, there is no end in sight to their suffering. In light of the humanitarian crisis unfolding at Guantánamo, it is indefensible that the U.S. government failed to answer the Commission's simple questions about how it plans to close the prison camp."
*Photo credit/top, courtesy of Close Guantanamo/photographer: Andy Worthington/Washington D.C. protesters outside the Supreme Court on January 11, 2013, the anniversary of the opening of
Guantánamo. Bottom, courtesy of peaceworkmagazine, Issue 386, June 2008.