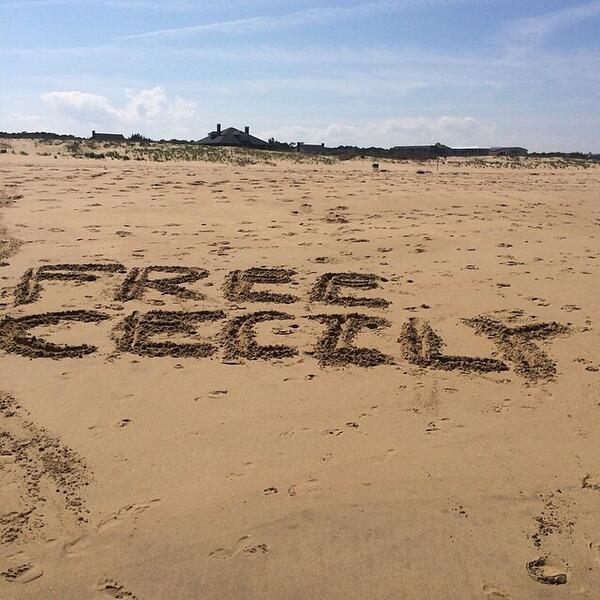 Petition signatures are growing in the #Justice4Cecily campaign on behalf of Occupy Wall Street activist Cecily McMillan. She faces sentencing Monday following her arrest on the 6 month anniversary of Occupy Wall Street, and a subsequent conviction on felony charges that can carry up to a 7 year sentence.
Here is May 7th coverage and discussion of the case with her attorney Martin Stoler and Justice 4 Cecily activist Lucy Parks.
Twitter indicates petition signatures tripling after an Occupy Wall Street photograph was shared; at the time of this posting, Change.Org shows 141,705 signers at their site alone.
If you haven't had a chance to express your support yet, go this a-way to change.org, or that a-way to the Justice 4 Cecily website where you can send a courteous letter to the judge. 9 of the jurors have taken the highly unusual step in writing to the judge to request that he not give her any prison sentence at all.
"We feel that the felony mark on Cecily's record is punishment enough for this case and that it serves no purpose to Cecily or to society to incarcerate her for any amount of time," wrote one.
Cecily McMillan is presently in prison at Riker's Island where she was visited by Pussy Riot activists
"Society must organize to save Cecily because she's really a hero," Ms. Alyokhina told reporters for the New York Times. "She is very similar to us. We also did time and went to prison for our beliefs. We see a lot of parallels."
*Photo credit, top, via shirts_tops_tees
, "
FREE CECILY AND ALL POLITICAL PRISONERS @ VIRGINIA BEACH."